Five little puppies make a great deal of noise, when Maïlys opens the gate of their outdoor dog pen. Tiny paws scurry around and there is much joy and excitement, as there are treats to be had.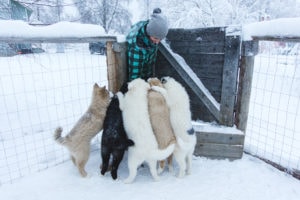 Maïlys recently founded a tourist service company called O'Nordic in Posio. Currently, the main activity of the company is focused on dog sledding and different safaris and excursions, such as snowshoeing with dogs.   
Maïlys and her boyfriend, Mehdi, are originally from southern France and they moved to Finland four years ago.  
You can follow their life in Posio with the dogs via the Instagram account @onordic_adventures. 
The couple was always fascinated about foreign countries, and during their studies, they decided to leave France and set off travelling. They went on trips all over the world, and in the Nordic Countries their first destination was Sweden.   
They travelled with a van in which they could also live and sleep in.   
In northern Sweden, the couple did some volunteer work on a husky farm. They moved several times back to France, to the French Alps, and back to Sweden again. At one point, Maïlys and Mehdi moved to Ivalo, Finland. The common denominator between all the moves was the couple's love of dogs and work on different husky farms.   
They got their first own dog, Sultan, in France in 2018. Sultan is a so-called rescue dog, which means that it has been rescued from its previous, not-so-good living conditions. Now it has a new loving home with Maïlys and Mehdi. 
Her own business, on her and the dogs' terms 
In 2020, Maïlys had an idea about starting her own business. And so begun the search for suitable premises and a place to live.   
After searching for quite some time, they happened to find a place that fit their budget and worked well location-wise too, in Posio, Finland.  
Soon after their move, Mehdi found work with the Posio-based ceramics and interior decoration company Pentik. Maïlys became an entrepreneur and founded O'Nordic.   
In addition to the main house, there are a number of additional old buildings on the property located in the Hyväniemi area. And as soon as they saw the buildings, the couple came up with good uses for them.  
"There is plenty of space around and also a lake nearby. We can do dog sledding on the ice in the wintertime," Maïlys explains.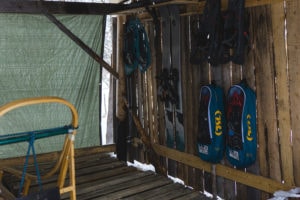 There were already many different outbuildings – great for storage etc. – on the property when the couple bought it. Photo: Maija Koskinen 
The buildings on the property were old and needed restoring. "We have done a lot of work here. We've repaired the old and built some new too. For example, we built spacious new enclosures for the dogs," Maïlys says.   
"There's lots to do, but this is a way of life for us. We chose it and we enjoy it," Maïlys says with a smile.  
In the yard, the adult dogs have their own two-dog pens, with access to a larger enclosure where they can run around in. There are also various structures built in the enclosure, to provide daily stimulation for the dogs.   
The dogs have pens with sheltering covers and doghouses. Photo: Maija Koskinen 
 "What the dogs love the most, is doing their breed-typical activity, i.e. pulling a sled. But they need some other activities too," Maïlys says.  
The enclosures have covers and doghouses that provide the animals comfortable shelter from the elements.  
"We also have a four-month-old litter, and there is a separate pen for the puppies," Maïlys explains.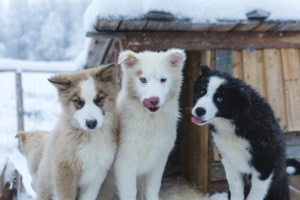 The four-month-old puppies are curious about visitors. Photo: Maija Koskinen 
One of the old buildings on the property was turned into a henhouse. There are currently 33 chickens.  
 "Through our volunteer work, we have also gained experience in farm work and beekeeping," Maïlys says.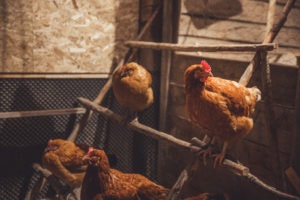 The chickens have their own indoor and outdoor spaces. Photo: Maija Koskinen 
Dogs as co-workers 
O'Nordic currently have 20 dogs altogether – mainly Yakutian Laikas and Alaskan Huskies. They are Arctic sled dogs and a nice and energetic bunch. Yakutian Laika is an ancient and primitive breed that has only recently become more common in Finland. It is still considered a rare breed in this country.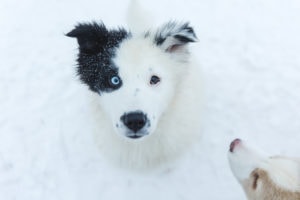 Yakutian Laika is a primitive breed. Photo: Maija Koskinen 
In addition to Ecology, Maïlys also has a degree in Ethology, which is the scientific study of animal behaviour, usually with a focus on the behaviour under natural conditions.   
It is indeed fascinating to watch Maïlys' actions as the dogs are running happily around her.   
She knows the personalities and typical behaviour patterns of all her dogs very well, and she is happy to share her knowledge with the visitors too.    
"Three of our dogs have recently been rescued from their previous owner, who was unable to keep them any longer. That owner is practically the only human the dogs have known thus far, and that's why they are still timid. They learn the right kind of behaviour from our other dogs and have slowly started to trust other humans too," Maïlys explains.  
Soon enough, one of the newcomers called Lola comes a little closer, and after a moment of timidness, she clearly enjoys being petted by the visitors.  
When Maïlys crouches down to Lola's level, the onlookers could swear the dog is smiling.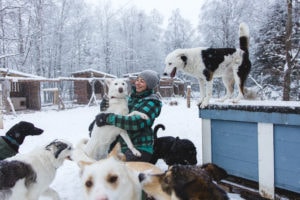 Maïlys says that she has learnt the most from her previous volunteer experiences and other work in this field, but also a great deal from her beloved dogs.   
"I learn something new every day from my dogs. They also teach me a lot of patience," Maïlys says with a laugh. 
Future with the dogs    
Maïlys hopes she will get clients of foreign visitors and the locals too.  
French is Maïlys' first language, she is a fluent and experienced speaker of English, and can even communicate pretty well in Finnish.   
In Posio, Maïlys' language skills are an asset, as many tourists feel comfortable and safe when they can get service in their own language.  
Central Europeans regard Finland as a very exotic travel destination. Nature especially, and the peace and tranquillity the nature provides, are important factors in attracting international tourists.  
"In France, we do get snow on the mountains, but it's more like a glacier. The winter in Posio is totally different from the winter in France," Maïlys says.  
"Even though it hasn't necessarily been the easiest of starts, I really enjoy living here with my happy dogs."  
Now in the winter, Maïlys' company provides different excursions and activities, such as snowshoeing, in addition to the dog sledding. In the summer, she organises hiking trips with the dogs. 
The prices start from a 15-minute dog sled ride that costs 45 per adult or 30 euros per child.  A six-hour guided snowshoe excursion with a dog costs 95 euros, and a husky ride to see the Northern Lights is 140 euros. 
After the excursions, visitors can sit and relax by the campfire and re-live their adventures in the newly-built wooden hut.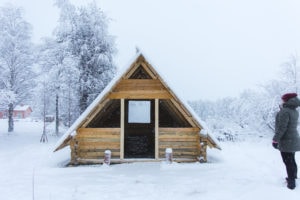 Maïlys is planning to expand her range of services in the future.   
"However, the plans are still unfinished and made in the long term," Maïlys clarifies.    
Maïlys recently contacted the Business Services Department of the municipality of Posio, in order to ask for advice in business-related matters.  
As a result of that initial conversation, Eeva Erkinjuntti, the Head of Business in Posio municipality, paid a visit O'Nordic. During the visit, Maïlys showcased her business and explained her plans for the future.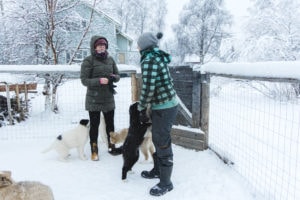 Eeva Erkinjuntti, the Posio municipality Head of Business paid a visit to O'Nordic. Photo: Maija Koskinen 
Services provided by the municipality of Posio to local entrepreneurs was also a topic discussed during Erkinjuntti's visit.  
Entrepreneurs can for example get advice and guidance from the Business Services Department of the municipality of Posio in case they need assistance in filling out various subsidy applications.   
Novice entrepreneurs especially may have a great deal of questions, related to the municipality's operations and services or even just the business world in general.   
In accordance with the new municipal strategy, the municipality of Posio aims to support entrepreneurs in the various stages of the companies' development.   
Maïlys is looking forward to the arrival of a thick snow cover and to starting her dog sled rides and husky safaris.   
"Dogs make you happy, and I hope we can spread the joy and happiness to our clients, with our dogs, activities and excursions," Maïlys sums up.