Pertti Perkkiö decided to try something new. He quit his day job, sold his apartment in Southern Finland and enrolled in the Nature and Wilderness Guide school in Kuusamo, Finland.
The autumn has been cloudy and dull, but right at this very moment, sunlight makes the birch leaves fluttering in the wind glow bright yellow. A Siberian jay routinely flies onto the patio of the cabin ('mökki' in Finnish) to check if there are treats left out for the birds.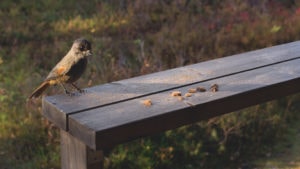 "This is a good place to live in," says Pertti, standing on the yard of his log cabin, gazing over the lake. Pertti's cabin is located in the village of Käylä, in the northern part of Kuusamo. 
"The nearest grocery store is 5 kilometres away, and it takes 10 minutes to drive over to Ruka and get a pizza. Even though I enjoy living here in these wildernessy surroundings, it's nice to pop in to Ruka from time to time and be back in civilisation", Pertti laughs. 
Inner restlessness turned into peace 
Originally from Ylivieska, Pertti has lived in many different towns and cities in Finland. In 1988, he left his hometown and moved south. For the previous 25 years, he was living in the Häme region (approx. 1.5 hours from Helsinki by car).  
Pertti made a long career at the Helsingin Sanomat printing plant in Forssa. He also does property maintenance and renovation work as a self-employed entrepreneur. 
 He was feeling like he needed some kind of a change in his life. The rainy winter of 2019 and Pertti's yearning for snow also played their role in making him think about his life choices. 
 About 18 months ago, Pertti decided to sell his apartment in Southern Finland, and in November 2020 he started studying in the KSAK adult education centre in Kuusamo to become a Nature and Wilderness Guide. 
 The idea had been brewing in Pertti's head for some time already, and since his children were all grown up, it felt like it was the right time for making changes in his own life. Pertti is an outdoorsy person, and nature had always been a part of his life in some shape or form – even during the most hectic years. 
 The KSAK Nature and Wilderness Guide training lasts for 14 months, and Pertti saw the studies also as an opportunity to take a break from everything. He could spend a year or so mulling things over in peace, and after that he would make some decisions about the direction of his life. 
At first, Pertti took a year-long study leave from his workplace and set off with an open mind to try something new. "Pretty soon I came to the realisation that I wasn't going to return to my old job," Pertti says.  
"Me moving up here, to the north of Finland, did not come as a surprise to my friends and colleagues in the south," Pertti says. 
I've always had some sort of inner restlessness, but here life feels very peaceful.
Wilderness guide school was the right choice 
The nature and wilderness guide training lasts for 14 months, and the course is carried out as so-called blended learning, with both in-person teaching and independent study. The studies are in Finnish.
In Pertti's group, there were approximately 15 students with different starting levels and goals, but the course itself went smoothly. 
At the beginning of the course, a personal study path plan was created for each student taking into account their individual goals and life circumstances. The course could also be complete the at one's own pace. 
"We had contact instruction once a month for four consecutive days, and then we met online in Teams-meetings on a weekly basis. We did a lot of studying independently and also as on-the-job learning." 
Cooperation with actual working-life is an integral part of the training. 
During his studies, Pertti was staying in the Basecamp Oulanka nature and adventure centre, where he also carried out his on-the-job learning and later on worked as an employee as well. 
Blended learning gives students from different places and regions flexible opportunities when it comes to their place of residence as well as place of work.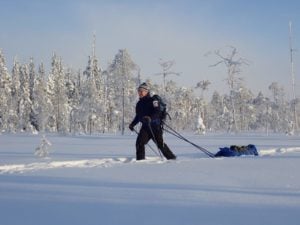 In Pertti's opinion, Kuusamo, which known for its wonderful northern nature, is a brilliant location for a nature and wilderness guide school. 
"There are several national parks nearby. You can do things like hiking, winter excursions amidst heavily snow-laden trees, white water rafting – just to name a few," Pertti says. 
And it was white water rafting that became Pertti's favourite activity during his studies. 
"Previously, water sports had not really been my cup of tea, so to speak, but I really got into white water rafting. For me, discovering a new sport and outdoing myself was the best part of this course," Pertti says. 
Rafting skipper ('koskikippari') training was an optional part of the studies 
The annual fee for the nature and wilderness guide studies was 350 euros. 
 "Personally, I thought the fee was very affordable," Pertti says. 
During his studies, Pertti received an adult education allowance granted by the Finnish Employment Fund. Find out more about the adult education allowance here. 
If you are interested in the nature and wilderness guide studies, please contact KSAK Instructor Tomi Mandelin: tomi.mandelin(at)ksak.fi. You can find out more about the studies (in Finnish) here. 
Being a nature and wilderness guide is and all-round job 
"Nature and wilderness guides are employed in a wide variety of jobs. The range is very wide indeed – you could work as a safari guide or as an independent entrepreneur, among other things. Some guides lead groups on longer excursions, for example," Pertti says. 
"Those training to become nature and wilderness guides should like interacting with people, as very often the job involves working with different sized groups and providing customer service." 
According to Pertti, the employment opportunities within the industry are currently good. "There is even a shortage of nature and wilderness guides," Pertti says. 
Many are being employed in seasonal work. "When doing seasonal work, you should keep in mind that the days can sometimes be really long and hectic. And then there are days, when you can take things a bit easier," Pertti explains. 
Last winter, Pertti was employed by Basecamp Oulanka, where he took customers snowshoeing and taught cross-country skiing. 
"There are plenty of well-known and wonderful places to visit all around this region, but we guides also have the knowledge of lesser-known, but equally amazing places," Pertti hints. 
Kuusamo now feels like home 
Pertti had been looking for a place of his own for quite some time, until he finally found one last summer.   
He got an email alert about a great log cabin located in the northern part of Kuusamo. There was even a traditional chimneyless sauna and an outdoor summertime cooking place in the yard. 
And so, Pertti bought himself a log cabin.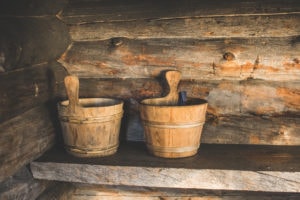 "I even bought myself a wooden rowing boat only recently. It's going to be a lot of work, as it needs to be tarred in the spring – but it's good to have a hobby, right?" Pertti says with a laugh. 
This winter season, Pertti's plan is to work as a freelance nature and wilderness guide, but also do some property maintenance and renovation work as a self-employed entrepreneur as well. 
 He has enjoyed living in Kuusamo. Especially the proper winter, with plenty of snow and cold temperatures, has been a pleasant experience. The lakes and rivers, the scenery of forested hills and the four distinct seasons are also a major plus – even though the summer could last a bit longer…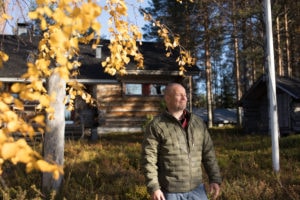 As an entrepreneur in the property maintenance industry, Pertti would also love to have some larger wholesale stores more close-by, where he could easily purchase even some of the more specialised parts and other products. "Luckily, products can always be ordered. You just have to keep your own stock of materials in good order," Pertti says.  
"Kuusamo is simply a number one place to live in," Pertti concludes. 
Pertti's TOP 3 tips for outdoor activities in the North Ostrobothnia region 
White water rafting.
"Many companies in Kuusamo organise white water rafting. There are several different routes along the Kitkajoki river."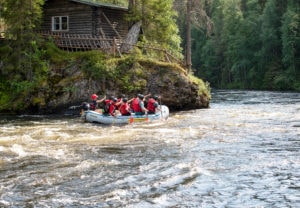 Sliding snowshoe hiking on the Riisitunturi fell in Posio, Finland.
"One of the most awesome wintertime hikes goes through the trees, heavily laden with snow, on the Riisitunturi fell. The sliding snowshoes are like wide skis and they are an easy way to get around in on snow-covered and uneven terrain."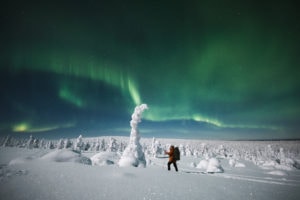 The Riisitunturi fell is a place of magical beauty in wintertime. Photo: Eeva Mäkinen 
Canoeing on the Oulankajoki river.
"Oulankajoki is winding river in the Oulanka National Park. The length of the canoeing route is approximately 24 kilometres and it is suitable even for beginners."