Kauniin keltaisessa entisöidyssä kivitalossa, keskellä Kuusamon keskustaa sijaitsee uusi ranskalaistyylinen kahvila-konditoria French Cafe. Tunnelmallinen kahvila käsintehtyine herkkuineen henkii ranskalaista tunnelmaa.
Kahvilan yrittäjinä toimii pariskunta Moona ja Arthur. Ystävällinen ja iloinen, Kuusamosta kotoisin oleva ja Nizzasta paluumuuttanut Moona Mankinen sekä miehensä Arthur, kutsumanimeltään Arttu, Bataillen aloittivat yrittäjinä tämän vuoden huhtikuussa. 19-vuotiaana lukion jälkeen Ranskaan muuttanut Moona opiskeli kondiittoriksi Ranskassa ja jäi töihin Nizzaan, jossa hän tapasi Arthurin.
Vuonna 2021 pariskunta istui nykyisen kahvilan vastapäisessä ravintolassa, missä heräsi ajatus ja keskustelu unelmasta, omasta kahvilasta tien toisella puolella näkyvään liiketilaan. Sattumien summana he saivat myöhemmin soiton kaupungilta, että liiketila peruskorjataan. Unelma omasta kahvilasta oli toteutumassa ja Moonan toivo kasvoi kotimaanmatkailun kasvun myötä.
"Sen vaan tiesi heti. Se oli se merkki, että se on nyt."
Visio oli selvä, ranskalainen kahvilakulttuuri ja tekniikat, sekä paikalliset raaka-aineet kutsuivat luomaan uutta Kuusamoon. Projekti oli pitkään salaisuus. "Saimme alusta asti olla suunnittelemassa liiketilaa, ja kaupungin kanssa oli hienoa tehdä yhteistyötä." Neljän kuukauden Kuusamossa oleskelun jälkeen he palasivat Ranskaan töihin ja toisen korona-aallon aikana he muuttivat Ranskan Nizzasta Kuusamoon. Näin syntyi French Cafe.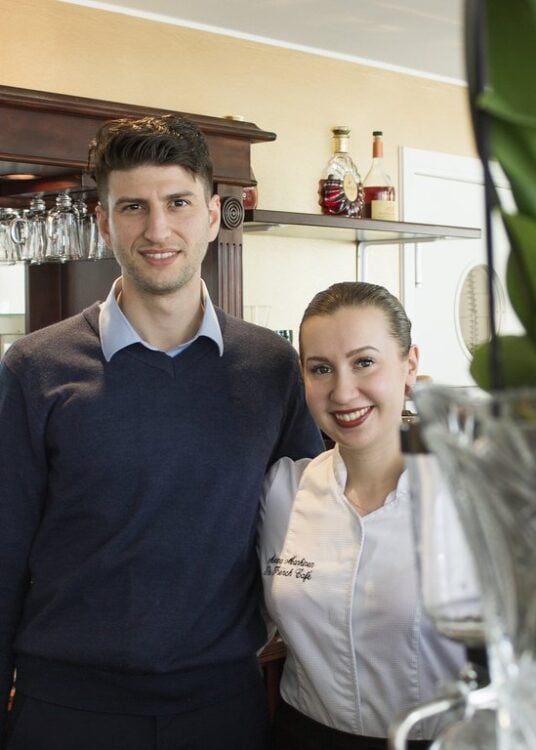 "Arttu tykästyi Kuusamossa kiireettömyyteen, puhtaaseen ilmaan, melusaasteettomuuteen ja lumeen."
Moona kertoo, että Arttu ihastui Kuusamoon nopeasti. "Kuusamolaiset on tosi leppoisia ja mukavia ja sopeutuminen ulkomaalaisellekin on ollut sujuvaa. Pitää käydä kaukana, että voi arvostaa sitä mitä meillä täällä on. Suomessa on paljon nähtävää ja Kuusamon harrastusmahdollisuudet ovat hyvät. Kuusamossa on hyvä olla, elää ja asua."
Liiketila on Moonalle tärkeä, sillä hänellä on vahvat lapsuusmuistot tilasta.
"20 vuotta myöhemmin on jännä olla samassa liiketilassa, missä on lapsena kenkiä kokeillut"
Yrittäminen on Moonalle ominaista. "Minä olen luonteeltani enemmän luova johtaja, tykkään tosi paljon keskustella ihmisten kanssa kahvilassa. Vastapainona Arttu taas on käytännön läheinen ja hänellä on hyvin hallussa yrityksen asiat." Kipinä yrittämiseen on tullut Moonalle jo nuorena. Lapsena Moonalla oli tapana pitää kotona kioskia perhejuhlien aikana. Myöhemmin hän perusti Moonan kakkutaivas-nimikkeellä 4H-yrityksen ja piti Moonan kakkutaivas-blogia.
Moonan äiti on myös ollut yrittäjä ja hänen tarinansa on yksi Moonan inspiraation lähde. Perheeltä ja paikallisilta yrittäjiltä saatu tuki on Moonalle ja Arthurille tärkeää. Moonan vanhemmat ovat aktiivinen näky kahvilalla touhuamassa ja paikallisilta yrittäjiltä on saatu neuvoja tarvittaessa erilaisiin ongelmiin. "Joka päivä oppii uutta."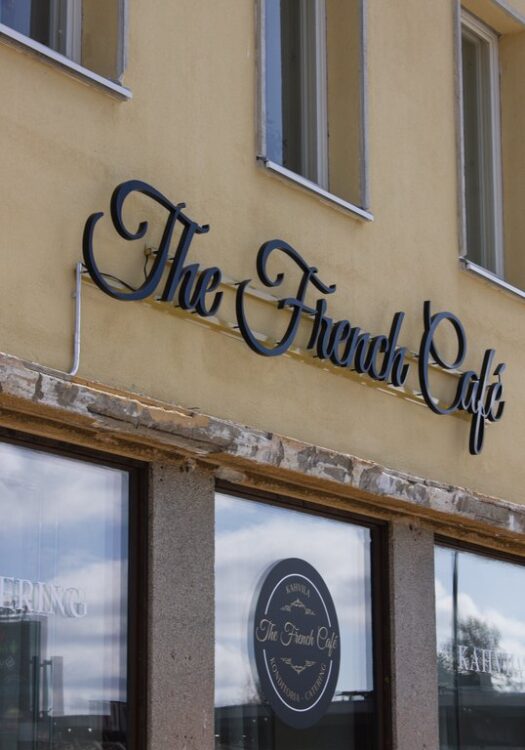 Miten ranskalainen elämäntapa eroaa suomalaisesta?
Moonan mielestä asuminen ja elintaso on Suomessa parempaa. "Ranskassa elintaso on erilainen, asuntojen kunto, lämmitys ja eristys on heikompaa kuin Suomessa. Myös sähkö on Suomessa halvempaa kuin Ranskassa.
Ranskassa ruokakaupat ovat jaettu pieniin liikkeisiin, ja on tyypillistä, että ruoat haetaan niihin erikoistuneista putiikeista ja toreilta, kuten leipä leipurilta, isojen päivittäistavarakauppojen sijasta.
Ranskan ravintolakulttuuri on erilainen, pieniä perheravintoloita on ketjujen sijasta enemmän ja ravintoloita on tiheämmin. Ranskassa myös allergiat otetaan vakavasti ja sillä halusimme luoda kahvilalle erillisen gluteenittoman keittiön."
Paikalliset pienet liikkeet inspiroivat Moonaa ja Arthuria yrittämisessä ja he toivoisivatkin Kuusamon keskustaan enemmän erikoisliikkeitä, sekä tori- ja markkinatunnelmaa. "Kannattaa tuoda uutta energiaa, uusia ideoita ja yrittäjyyttä Kuusamoon. Pienikin yritys voi pärjätä Kuusamossa." Moona sanoo.
"Kuusamo on pieni sympaattinen paikkakunta, joissa on mukavia ihmisiä. Talven ihmemaa, jossa pääsee luistelemaan, uimaan, veneilemään ja täällä voi nähdä myös revontulet."
Straight from Nice to Kuusamo
A new, French-style café-confectionery has been opened in Kuusamo town centre. Located in a restored plastered brick house with a beautiful yellow finish, The French Café offers delicious handmade cakes and pastries in an atmospheric French setting.
The owners of the café are the couple Moona Mankinen and Arthur Bataille. Friendly and cheerful Moona, now back in her home town of Kuusamo from Nice, and her husband Arthur, who goes by the name Arttu, started as entrepreneurs in April 2023. After finishing high school at the age of 19, Moona moved to France, became a confectioner and stayed to work in Nice, where she met Arthur.
In 2021, the couple was sitting in a restaurant across the road from their present-day café, discussing an idea of opening their own café in the business space on the other side of the road. Serendipitously, they later received a call from Kuusamo town that the space was to be renovated. The dream of owning a café was coming true, and Moona's confidence grew together with the growth of domestic tourism.
"We just knew it right away. That was the sign that the moment is now."
Their vision was clear right from the start. French café culture and techniques, together with local ingredients beckoned them to create something new in Kuusamo. For a long time, the project was kept secret. "We were able to be involved in planning the business space from the beginning, and working in cooperation with the town was great." After a four-month stay in Kuusamo, they returned to their jobs in France and during the second wave of COVID-19, they moved from Nice, France to Kuusamo, Finland.
"In Kuusamo, Arttu has enjoyed the relaxed lifestyle, clean air, snow, and lack of noise pollution."
According to Moona, Arttu was quickly attracted to Kuusamo. "The local people are really relaxed and nice, and integration has been smooth for a foreigner. You have to go far to be able appreciate what we have here. There is so much to see in Finland, and there are many leisure activities available in Kuusamo. Life in Kuusamo is very good indeed."
The business space is important to Moona, as she has strong childhood memories of the space.
"20 years later, it is exciting to be in the same place where you tried on shoes as a child."
Running a business is in Moona's blood. "I am more of a creative leader by nature, I really like talking to people in the café. Then again, Arttu is much more practical than I am, and he has a good grasp of the company's affairs." Moona has had an interest in entrepreneurship from a very young age. As a child, Moona used to have a kiosk at home during family celebrations. Later, she set up a 4H enterprise called Moona's Cake Heaven and wrote a blog of the same name.
Moona's mother was also an entrepreneur, and her story is a source of inspiration to Moona. Support given by their family and local entrepreneurs has been important to Moona and Arthur. Moona's parents are often seen making themselves busy at the café, and local entrepreneurs have been happy to provide useful advice for various problems. "We are learning something new every day."
How does the French way of life differ from the Finnish one?
In Moona's opinion, housing and living standards are better in Finland. "In France, the standard of living is different, the condition, heating and insulation of apartments is not as good as in Finland. Electricity is also cheaper in Finland than in France.
In France, grocery stores are divided into small shops, and it is typical to get food from specialized boutiques and markets, such as bread from a baker, instead of large grocery stores. French restaurant culture is different, there are more small family restaurants instead of chains, and there are restaurants everywhere. In France, allergies are also taken seriously, which is why we wanted to create a separate gluten-free kitchen for the cafe."
Small local shops inspire Moona and Arthur in the business world, and they would like to see more specialized shops in Kuusamo town centre, as well as a marketplace atmosphere. "It is worthwhile to bring new energy, new ideas and entrepreneurship to Kuusamo. A small company can be successful in Kuusamo," says Moona.
"Kuusamo is a sympathetic small town filled with nice people. It's a winter wonderland where you can skate, swim, or go boating, and you may also see the Northern Lights here."